TheSoul Publishing employee handbook is designed to provide our teammates a comprehensive guide on all the main processes at the company.
We have decided to share it externally to provide you with a greater understanding of what it is like to work here.
The majority of topics covered in this guide are applicable globally, across all locations and all job roles — unless otherwise stated. Curious about what's inside of TheSoul? Let's find out!



What will my recruitment process look like?
We post all available roles on our career site and duplicate on LinkedIn and local job boards. You can apply through any of these resources. Your CV/application will be carefully reviewed by our team, and if we are ready to move forward with your application, one of our recruiters will contact you and explain the next steps.
Selection steps may vary depending on the position but usually are the following:
Application
Video interview in Hirevue
Test task
Interview with recruiter
Interview with hiring manager
Offer
Test tasks are an essential part of our recruitment process. All of them are unique and made specifically for a role you are applying for. They look like a real-work assignment and can show the hard skills of the candidate.
You can't be soulmates with anyone, right? That's why before making a job offer we need to be 100% sure the person shares our values and can easily adapt to our culture. Those who aren't interested in developing, who are just looking for stability and the same tasks every day, and who aren't ready to take on new challenges — they all aren't a good fit for our team.
We make sure the choices that our hiring managers make are non-bias. TheSoul Publishing is an equal opportunity employer that means we do not discriminate based upon race, color, religion, gender, gender identity, national origin, citizenship, age, disability, sexual orientation, marital status, or any other characteristic protected by law. We care about the privacy of our candidates and all the data you provide to us is maintained in a secure manner and kept confidential.
We also have an Employee Referral Program. The referral program is a process through which employees recommend qualified people from their network who they think would make a perfect teammate at TheSoul. If that person is successfully hired, then they will get a nice reward.
What happens once I join the team?
We know new opportunities bring excitement and nerves.
When we join a new class, group or company we don't always know what to expect and need guidance. We fully understand and therefore we offer a seamless onboarding program to all new soulmates. All newbies start their experience with the company with 2 days of online onboarding — we want to make sure you will have time to study and embrace our studio specific communication and corporate tools, technology and culture at a comfortable pace. 2 days are enough to dive into all these topics but learning at the company never stops.
Your colleagues are here to help you if something is not clear and we've observed the onboarding period is usually in 1-3 months depending on your individual pace. Ability to adapt quickly is a crucial quality at TheSoul Publishing as we are a fast-evolving company and always welcome changes.
We took our time to find the best approach to the onboarding process which consists of two parts:
Company onboarding to help you understand company-wide processes and systems.
Professional introduction to your team, department and garner a deep dive into your initial projects and responsibilities.
Company onboarding
The first day for a new employee is devoted specifically to learning about the company, with the help of our Asana onboarding project. This will be assigned to you automatically.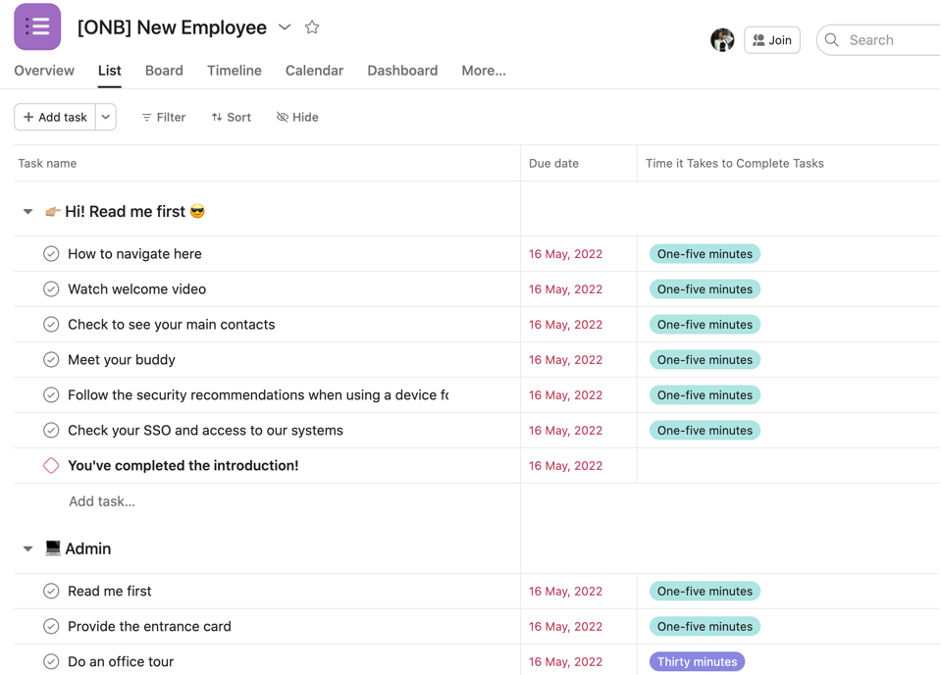 It will help you learn about...
logging into the systems
setting up accounts in Asana, Slack, Confluence, TheSoul, BambooHR (find more in "What tool will I use in my work?" section)
the company and our policies.
We are continuously improving this process to make the new employee's experience the best it can possibly be.
Professional introduction
Now, the next step is when your onboarding experience is customised to you!
Your department will now decide on the most efficient way to introduce, present and structure information on your expected duties and tasks.
And soon you will receive your first tasks from your manager... Exciting, huh!?
Will I have opportunities for personal & professional development?
Of course! At TheSoul Publishing we believe in continued personal development.
We encourage you to take the lead and identify important areas and projects that will help you to become better and grow, and set the pace for your own professional achievements. Also our People Growth team is here to support your learning and to help you grow your career at the company.
We have an educational portal called the TheSoul Publishing Academy. It is our home for learning and for now it has 800+ courses. Whether it's technical training courses specific to your role, or e-learning content to help develop soft and managerial skills — you'll find it all in TheSoul Publishing Academy.
You and your manager can keep track of all your progress — you can set developmental goals and create a suitable learning journey within Academy to achieve them.
And it never gets boring — our learning content ranges from online courses, tests and quizzes, videos, educational presentations, reference guides and much more.
We are a unique company in many spheres. That's why the majority of our educational courses are based on our internal success and failures and insights of our people and it makes them super valuable.
Who can I contact if I have a question?
Anyone on your team of course. Asking for help is the best way to ensure success. We created an atmosphere where it is totally ok to ask your teammates for help if you do not know how to resolve a problem or can't find information you need.
Apart from that we also have People Partners — HR representatives who look after our employees on a day-to-day basis and are ready to help with questions about development, career, and many others.
Make sure you know who your People Partner is as they are your "one-stop-shop" for any questions you might have about your employment.
What are the key values of TheSoul?
We all are very different here but we share the same values. TheSoul culture highlights the ways we interact on a daily basis — the way we act in conversations, the way we approach our projects, and the way we share failure and celebrate success.
Here we:
Respect our colleagues equally
Admit fault and support success
Respect the lifestyles and views of all colleagues
Interact as transparently as possible and share information openly
Think critically
Gain inspiration from someone's success
Share feedback
Ask for help
Hire wisely
Use resources reasonably
Never complicate the life of our colleagues
Are curious
Invest in our own development
Adapt quickly
Are proactive
Take risks
Strive higher
Experiment
Avoid perfectionism
Have fun!
How will I receive feedback?
Feedback is an important part of our culture and we encourage soulmates to openly and frequently share feedback to each other. Feel free to ask your manager / supervisor and colleagues to share their honest opinion on your work.
It is important to take into account and listen to different perspectives, especially if they differ from your own. Feedback is something that strengthens your professional development.
How will we communicate once you become a soulmate?
We do not want our team to waste time and resources. Creativity is our priority and we strive to avoid unnecessary complications. We have general rules applicable to anyone in a company: we respect each other, and regardless of our location, we maintain our core principle of asynchronous, written communication. This is a type of conversation where an individual (or a group of people) doesn't expect an immediate response.
Asynchronous communication has the following advantages:
It encourages you to describe tasks more clearly and concisely.
There's no need for constant clarification.
There's no need for everyone to be at their workspace at the same time.
We use synchronous communication tools only when there is a real need for them — when it's impossible to proceed without them.
We save time for people reading our messages and keep in mind that things we write once will be read many times.
We record everything in written form (no oral agreements).
We always think before giving an answer. That way, our answers come out better. And we also think before asking a question so that we don't turn our interaction into asynchronous 'ping-pong'. We strive to maximize the value of each iteration to move forward effectively. At the same time, it's important to let your colleague know that you've received their inquiry on the same day and that you need some time for a thought-out response.
We save our colleagues' time when we use the tools properly.
We respond within 1 business day in all company systems (Slack, Google Calendar invitations, etc.).
Email
What's that?
Jokes apart — we do not use email for internal communication within the company. Completely. Totally.
Meeting
As we mostly work in an asynchronous environment, we do not never really need meetings, so they are more an exception than a rule. Meetings with a large number of participants (more than 2) can often be exhausting and toxic so we prefer to avoid this waste of time.
It doesn't matter who you need to talk to — your teammate or the CEO of the company, you can just check their calendar and send a calendar invite.
If setting up a meeting, you should be sure that you:
Discussed the problem asynchronously (in written form) and reached an impasse.
Developed a plan for the conversation beforehand, and sent it to the participants in advance.
Invited only people who need to participate.
Scheduled the meeting to last for no longer than 30 minutes
Schedule meetings at least 1 day in advance.
And remember to not set up meetings "just to brainstorm" or according to the scenario of "there's a problem — let's get together and think it over." It's better if everyone thinks things over themselves and passes on their thoughts in written form, rather than all together.
We recommend that you follow the same guidelines for any scheduled or unscheduled 1:1 meetings.
After meetings
The person in charge of the meeting logs the results in the location where the project documentation is stored.
They should also send a link to the record, if necessary.
What tools will I use in my work?
Do you have a notepad on your working desk? Well, you won't need it anymore.
At TheSoul we cultivate a tech-savvy approach to all of the processes in our company: from video production to operation, at every moment of work, everywhere, always. Our tools support collaboration, help to reduce the work cycle on documents/tasks/projects, and establish an effective ecosystem for collaboration and communication. Our processes and workflow are impossible without the best solutions that can be found in the market.
If you need to see the progress of a task — use Asana.
If you have a quick question for a colleague - Slack is here to help. Don't forget to use emoji — we really like them.
If you are implementing a new process and want everyone to know — put a guide on Confluence so everyone will be able to follow it easily.
Let's see what tools we use on a daily basis:
Asana
As mentioned earlier, we do not use email internally. For many, this approach can be unusual — especially if you come from a big corporation. The truth is — let's admit emails get lost, ignored, forgotten. Do you remember receiving emails with FW:FW:FW:FW:RE:FW you do not know what to do with? Well, forget about it at TheSoul. Meet Asana.
Asana is our main system for coordinating our work within the company. It provides us with the capability to manage projects and operational processes. Tasks in Asana always have an assignee (a person who should perform the task), a deadline, details on what needs to be done, participants, projects that are connected with the task, all the necessary context. Using Asana we always know what needs to be done, when and how. Everyone in the company can create projects and tasks and assign them to any employee.
Slack

Slack is our center for notifications regarding news/changes and a convenient tool for team communication.

Confluence

This is where we store and discuss documents. Think of it as our company's wiki pages! The sections allow you to structure and organize work within your team, and also provide access to the organization's knowledge base and the information that participants need to work effectively.

Google tools — Calendar, Meet, Drive and other

Team Drives (Shared Drives) are used to share non-text files (video, audio, images, etc.) within teams. The files in the team drive are visible to all of the users that are connected to it. As we believe the majority of the communication and work processes can be done in Asana, Slack & Confluence we use Gmail only for external purposes and verifications.

BambooHR

This is an automated, integrated system for personnel management. Using the BambooHR service, you can see the current organisational structure of the company or request vacations/sick leave/work from home.

If you are a manager, you will have additional functionality with the access to your team's contacts, vacation and sick leaves' history, promotions and salary changes.

TheSoul.io

This is our system for automating processes for producing original and translated content — filmed and animated videos, video compilations, articles, and postcards. TheSoul automatically creates tasks, assigns them to employees, and manages the sequence of their fulfillment according to the settings established by specific processes.

SSO

Authorization for all services is carried out through the Single Sign-On (SSO) mechanism, which assumes the use of a single set of access credentials (a username/login and password). Each employee has a personal account where access data and contact information are stored.

Initial account setup, including setting up a password and two-factor authentication, is carried out by employees when they join the company.
Specialized tools
QlikSense

This is a very advanced tool for collecting data from different sources, and for analyzing and visualizing it.

With this tool, the company has consolidated data from YouTube, Facebook, Snapchat, Google Analytics, Google AdManager, Navision, Tetc., and has made it available in a variety of formats for analysis.

Jira

This is a tool that is actively used by the IT department to manage development within its teams. For the most part, it is focused on development in agile teams, and also has many integrations with the toolkit used to develop software solutions.

GitLab

This tool is also used a lot by the IT department. It's used to store repositories with code, as well as to configure pipelines for the assembly and implementation of our services.



What if I need support with something?
If you face any difficulties with existing tools you do not need to call tech support and wait for have an hour on a line to get help — we have special channels in slack like (#support-slack, #support-confluence, #support-it) where you can just post your problem and attach a screenshot and IT professionals will reply to you shortly.
If your matter is not connected with tools you can always visit a page on confluence called Request Management Catalogue and create a request to a responsible team. Once you create it you will be able to see who is working on it and how the process is going. Each department of our company follows these principles. Each request is expected to be replied to in a couple of hours.
Apart from that we have all guides you can possibly need on Confluence for you to be able to find information just through the search function. You won't feel abandoned at any time.
Who runs the company?
TheSoul Publishing is run by Chief Executive Officer Artur Mamedov and Chief Creative Officer Anastasiia Vinogradova.
Company's founders Marat Mukhametov and Pavel Radaev are members of The Board of Directors.
The company's Leadership Team includes:
Chief Human Resources Officer
Chief Information Officer
Head of Research & Development
Vice President of Production Operations
Vice President of Content Distribution
Vice President of Global Communications
Vice President of Creator Services
Vice President of Finance
Vice President of Operations
Vice President of Content Quality
Vice President of Technology
Vice President of Software Development
Vice President of Corporate Development
Head of Localisation
Heads of Production Hubs
Executive Producers (who are responsible for different channels)